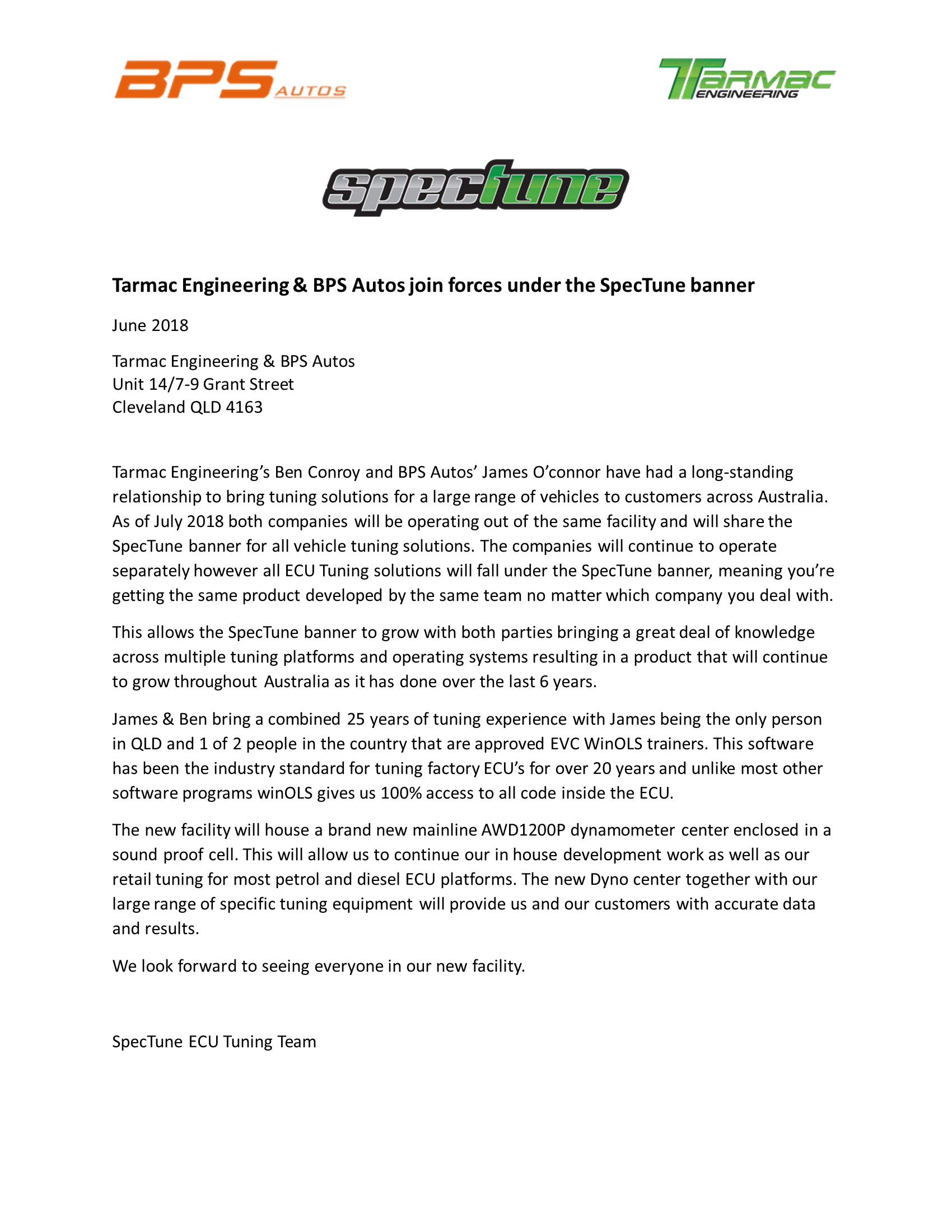 Tarmac Engineering & BPS Autos join forces under the SpecTune banner
June 2018
Tarmac Engineering & BPS Autos
Unit 14/7-9 Grant Street
Cleveland QLD 4163
Tarmac Engineering's Ben Conroy and BPS Autos' James O'connor have had a long-standing relationship to bring tuning solutions for a large range of vehicles to customers across Australia. As of July 2018 both companies will be operating out of the same facility and will share the SpecTune banner for all vehicle tuning solutions. The companies will continue to operate separately however all ECU Tuning solutions will fall under the SpecTune banner, meaning you're getting the same product developed by the same team no matter which company you deal with.
This allows the SpecTune banner to grow with both parties bringing a great deal of knowledge across multiple tuning platforms and operating systems resulting in a product that will continue to grow throughout Australia as it has done over the last 6 years.
James & Ben bring a combined 25 years of tuning experience with James being the only person in QLD and 1 of 2 people in the country that are approved EVC WinOLS trainers. This software has been the industry standard for tuning factory ECU's for over 20 years and unlike most other software programs winOLS gives us 100% access to all code inside the ECU.
The new facility will house a brand new mainline AWD1200P dynamometer center enclosed in a sound proof cell. This will allow us to continue our in house development work as well as our retail tuning for most petrol and diesel ECU platforms. The new Dyno center together with our large range of specific tuning equipment will provide us and our customers with accurate data and results.
We look forward to seeing everyone in our new facility.
SpecTune ECU Tuning Team